Welcome to the watery world of

                                           Humaitá





















March 9-13,




















2003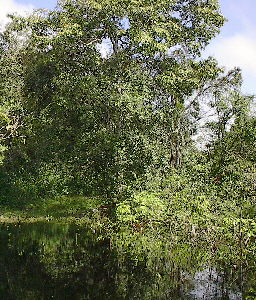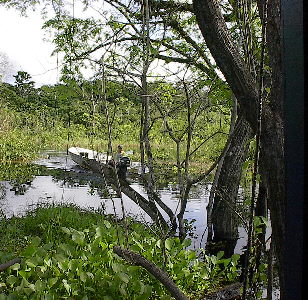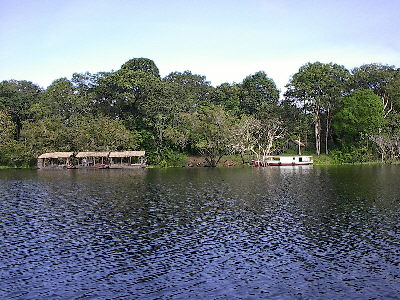 Hidden in the marshy undergrowth of the Humaitá region, down creeks and rivers which the Caravan cannot navigate, are human souls who have never once in their lives even seen a dentist.

Missionary Stanley Abrahamson, who works in this area with MIB, Mission to the Interior of Brazil, had heard of Asas de Socorro and the care we freely give, and had prayed for five years for our help.  He had tried many times to get into contact with Asas, and even came to Manaus at one time.

Finally the arrangements were made for this clinical mission, at which hundreds of people received medical and dental treatment.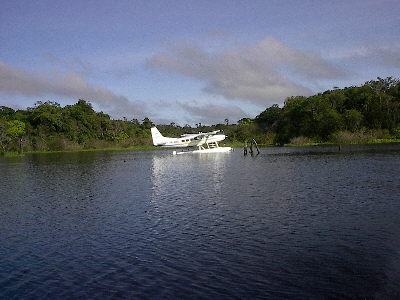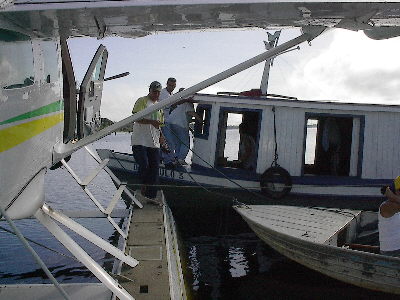 On a lake, Darrel and Wilson landed the Caravan with its precious cargo of professionals who love the Lord and have volunteered to serve his people, even when they have to be searched out in the backwaters of the Amazon.

From the plane, boats took the dentists, doctors, medicines and equipment up the narrow tributaries.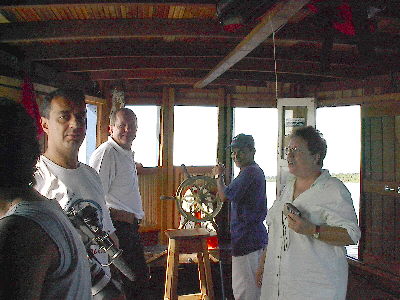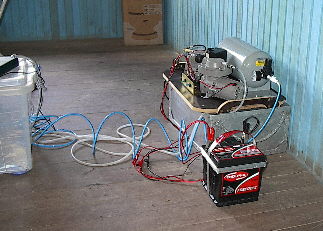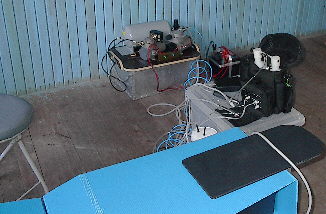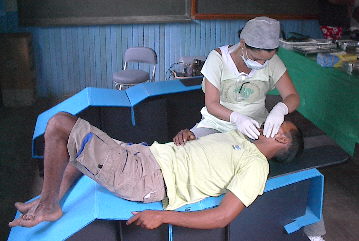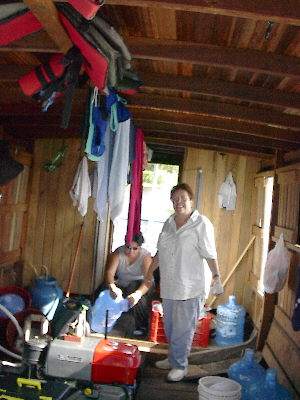 Residents of several lake areas, during the five day mission, were treated in school houses, community meeting places, and even on board a larger mission boat.

Last October, Dentist Gayle Cheatwood, his wife Nita and adult children,  and Nita's sister and her husband,  all from California, were guests in our home in Manaus.  They were returning from Porto Velho, Brazil, from one of their many short term volunteer dental, occular and evangelical clinics, for which they travel all over the impoverished world.  During their stay, Darrel asked Dr. Cheatwood to demonstrate his portable, lightweight dental equipment kit which he had assembled with the help and innovation of various dental suppliers in the United States.

With his help and advice and that of dental suppliers during our last trip to the US, and with funds donated by an American church and one private donor, Darrel was able to purchase and assemble similar equipment.  The cost of the entire kit was about US$3,900.  We brought it back with us in our suitcases without any difficulty.

This kit provides more extensive dental treatment than our prior antiquated, heavy set.  It is easy to carrry and weighs altogether 130 pounds less, including the chairs and batteries which are rechargeable by solar panels.  The chairs fold into a small packet weighing only 5 pounds each.  They will support a patient of over 300 pounds, although this fact has been irrelevent in our practice.

The new equipment has high and low speed drills, a prosthesis making tool, and a saliva ejector system.  These enhancements improve the degree of sanitation, shorten the time required to treat each patient, and increase the quality and precision of the dentists' work.

Only one dentist can use the kit at a time.  Since we usually have two dentists working, one does extractions and the other restorations, alternating in shifts.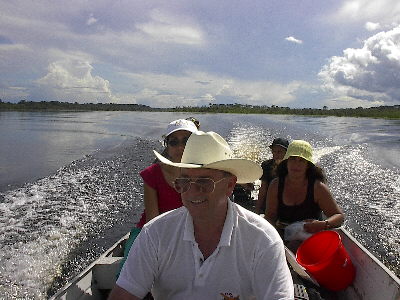 The team returns to the plane, still floating on the lake about two miles away from the site of the last clinic.  An MIB (Mission to the Interior of Brazil) evangelistic team returned two weeks later to bring the Gospel of Jesus Christ to these lakeside villages.

Arquives from Previous Years: