Construction of the Amazon Mission Base,

Seaplane Hangar and Maintenance Facility

(Updated 17 September, 2004)

   One might think that, in a world of water such as Amazonia, there would be lots of seaplanes and an appropriate number of hangars and facilities for their upkeep.  Not so.  There are probably no more than some three dozen seaplanes that operate in this region which is half the size of the 48 States, and they have no hangars. Their delicate avionics are exposed to brutal sun, steamy humidity and thunderstorms with heavy rains all year round.

   The new Amazon Mission Base, including a seaplane hangar and maintenance facility, has already begun to serve the seaplanes and amphibian aircraft of Asas de Socorro and other groups within our tight-knit community of evangelical missions organizations.  These include Youth with a Mission (YWAM) [JOCUM in the Brazilian language], The Association of Baptist World Evangel-ism (ABWE), the Brazilian Pentecostal Missions and the Assembly of God, Presbyterians, and International Baptist Missions.  As a practice of being a good neighbor and a Christ-like witness in a land of scarce resources, we also help repair the occasional commercial seaplane needing urgent repairs, troubleshooting, or check-ups.  This is a major piece of the integrated activity of channeling and physically conveying the Christian gospel mission outreach into the jungle and to riverside peoples with our other partners in this harsh mission field.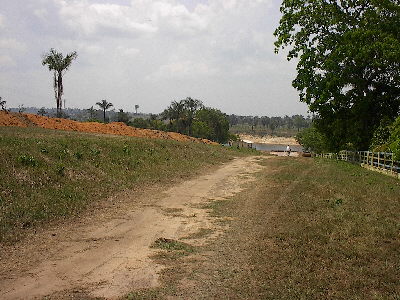 In 2001, Asas de Socorro acquired this property on Bela Vista Lake near the village of Puraquequara, about 25 minutes' drive from Manaus. 

Here we look from the entry gate toward the lake.  That red dirt on the left is a small part of the 650 truck loads already hauled up to make a level area for the hangar construction.  The plot is somewhere around 10 to 12 acres.

Construction of the hangar has been fully funded!  Necessary mechanical equipment will cost about $20,000, part of which has already been donated.  The hangar cannot be legally certified as a maintenance facility until all the equipment is in place.  Some contributions are coming in now, especially for the winch so that the hangar can be used for the Caravan.  Specific pieces of equipment will be added as funds allow.

Tax-deductible US dollar contributions may be made to "Asas de Socorro Amazon Project" through Mission Aviation Fellowship:

Mission Aviation Fellowship

P.O. Box 3202

Redlands, CA 92373-0998

If you feel the Lord's leadership to make a contribution, please act with all urgency.  And let us know about it.  We would be greatly encouraged.

Contributions in Brazilian Reals, with no US tax credit, may go to "Amazon Expansion Project":

         Asas de Socorro

         Caixa Postal 184

         75001-070 Anápolis - GO

         Brasil

20 March, 2002.  The top's up!  And the first sections of the floor concrete have been poured.

The concrete ramp was poured when the water level was very low, so that most of the year seaplanes can float right up to the bottom of the ramp.  A winch has been installed to pull them safely up the ramp and into the hangar, riding up on a dolly without scratching their floats.  The current winch, however, is not strong enough to pull up the Caravan.  We need a winch with strong brakes so that the Caravan can be safely raised and lowered into the water.  Meanwhile, the Caravan, being amphibious, is usually hangared at the Manaus airport during its off hours.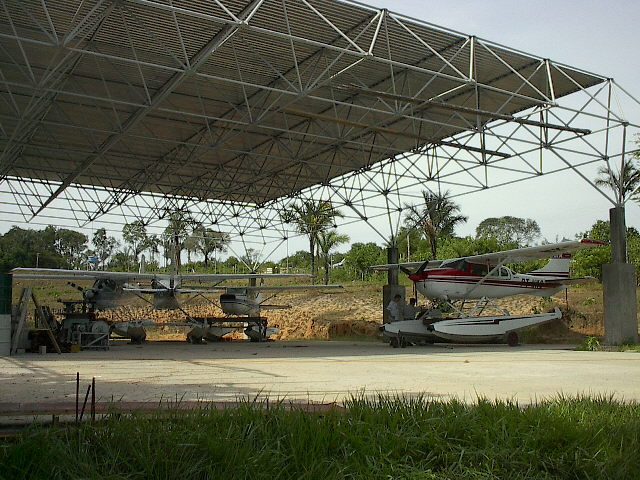 November 7th, 2002, the beginning of the rainy season.  Workshop spaces are being built on the ground level at one side of the hangar.

Office and conference spaces are being built on the second deck.Bathrooms on both levels are being built at the far end. 

The roof has been extended over them since this photo.  No one seems in a hurry to build the walls.  Work continues without them.

The well has been dug and water pump installed.  Electricity has been functional since early in the construction.

Meanwhile, the hangar was already being used for repair and maintenance of floatplanes, both ours and those of other missionary groups.  Above, we see four planes:  an amphibious Cessna 185 flown in by Alan Yoder of ABWE (Association of Baptists for Worldwide Evangelism), a Helio Courrier flown by Mike Bunn of Youth With a Mission (Y-WAM in English, or "JOCUM" in Portuguese), a Cessna 206 operated by Benny DeMerchant of a Canadian Pentecostal church, and the Cessna 206 of Asas de Socorro.

Simply keeping the planes covered from the tropical heat will reduce maintenance and extend the life of a plane.

Contributions in US Dollars, with no US tax credit may be sent to the following account and address, designated to "Amazon Expansion Project":

Asas de Socorro, Account Number:  5233290

Christian Community Credit Union

101 S. Barranca Ave.

Covina, CA 91723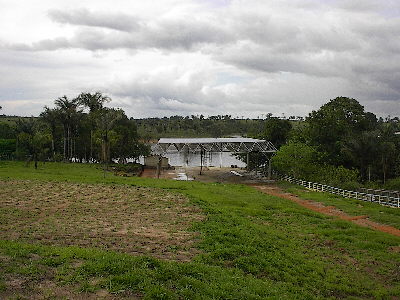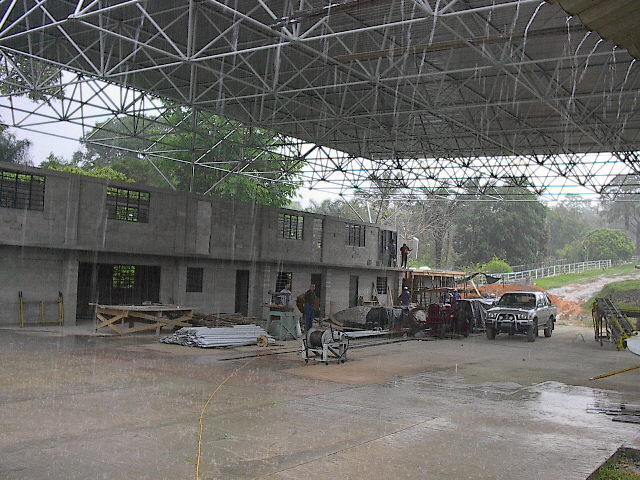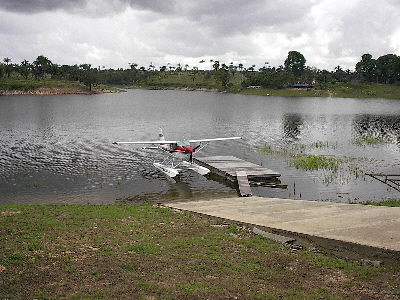 Removed a safe distance to one side of the hangar is the new storage area.  Its several storage rooms will contain an air compressor, paints, lubricants, fuel drums, and other combustibles.  A covered bay protects the tractor and lawn mower.

On the lake and ramp end of the hangar, there is a simple kitchen on the bottom level with a stove, refrigerator, and a microwave, and a covered eating area upstairs.  Since the hangar is far out into the countryside, provisions must be made for food.  This also brings the hangar into compliance with Brazilian law.

Upstairs rooms with movable dividers are used as an office and reception area, meeting rooms, and work spaces.  For the best views of these rooms, please see the photos of the Puraquequara Mission, which was held at the Mission Base on October 6, 2003.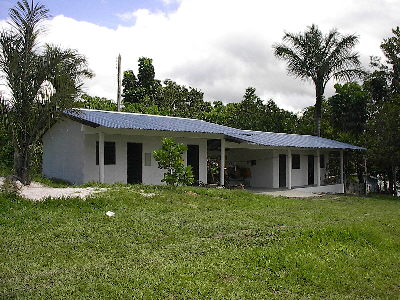 Oct. 6, 2003.  The upstairs office and conference rooms are finished, workshelves and desks have been built.

Storm drainage ditches have been dug around the hangar and are being lined with permanent concrete channels.

Another 12 x 30 meters of hangar space is being added in front of the current hangar deck.  The walls will go up after the floor is complete.   Meanwhile, it is a distinct advantage that Manaus is in the dry season.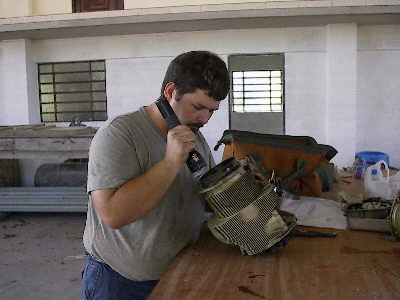 Pilot/Mechanic Paul Bachmann and Mechanic Specialist Ryan Joy work daily at the hangar.  They continue to develop work spaces and systems and gradually accrue the tools and spare parts needed to be fully functional.  Here, Ryan and Paul are replacing five of the six cylinders of our Cessna-206 on floats.  This plane is out of service for several weeks while maintenance items are performed.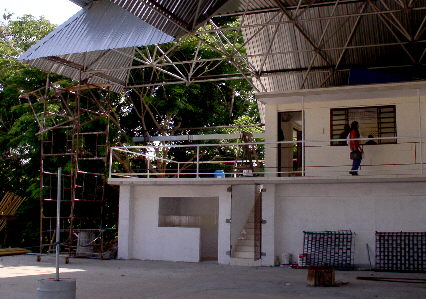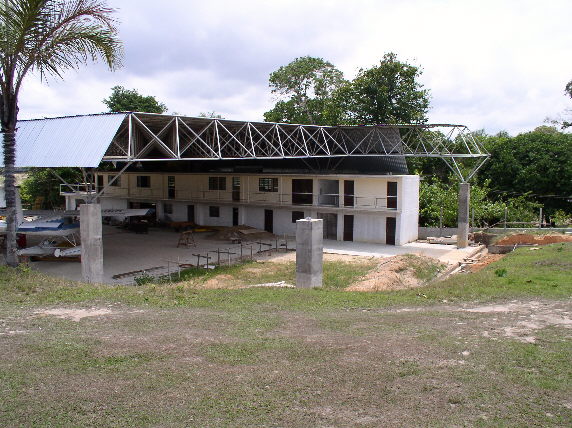 March, 2004.  A concrete tile driveway leads to the Mission Base, and there is parking space on the right for a few cars.  More hangar floor has been poured, the drainage ditch has been covered, and the roof has been extended.  With the lush, green grass and coconut palms lining the drive, the entry is quite inviting.

One of several office cubes.  There is no air conditioning for the offices, nor plans at this time to install it.  But then, there wasn't air conditioning in the previous office space, which was Ester Camilo's house.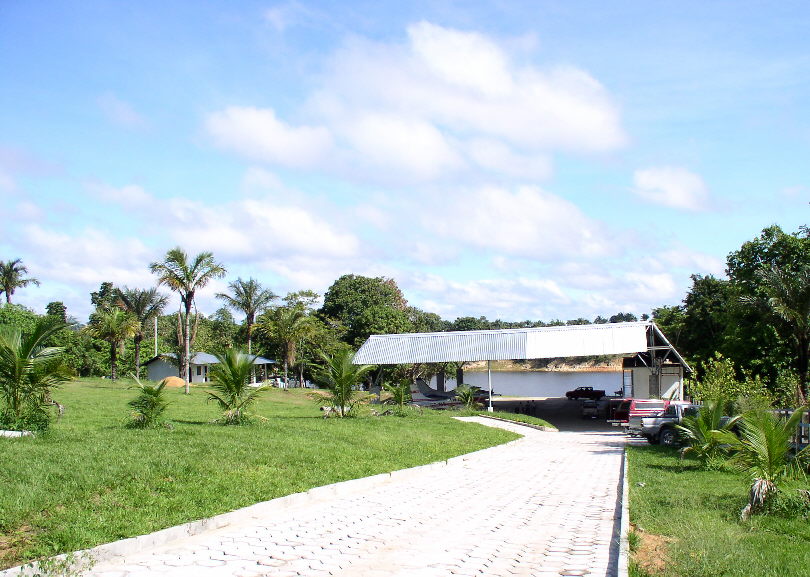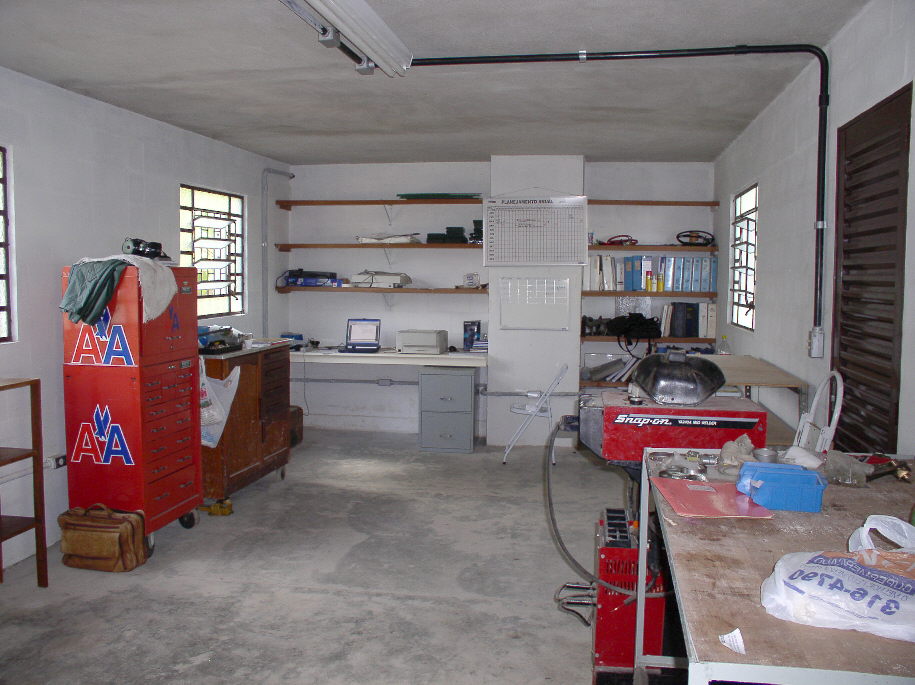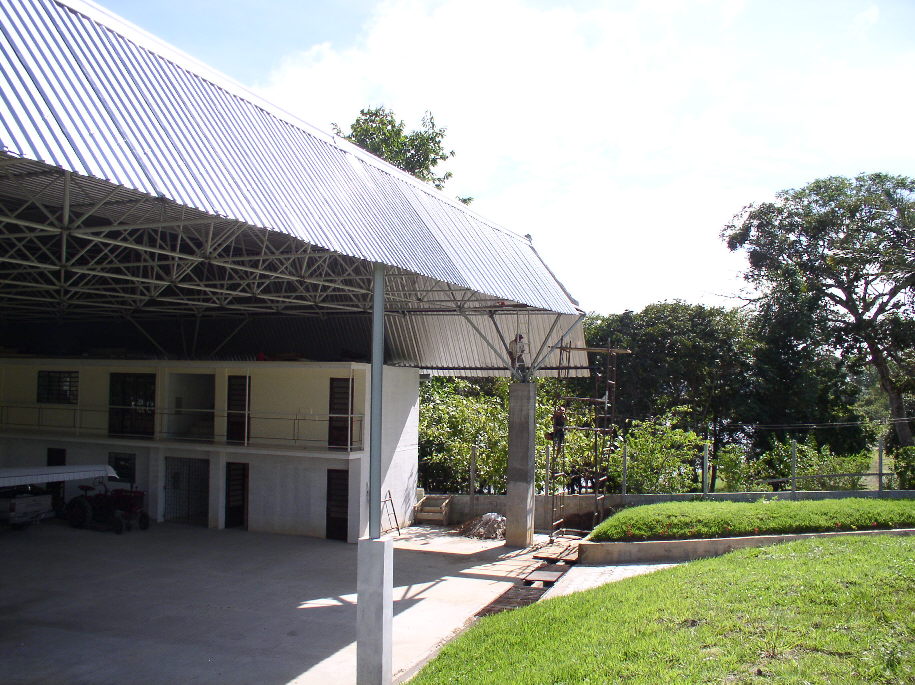 Above is one room of the well-organized area for storing tools and parts for airplane repair.

Land side of the Mission Base.  Trucks can easily drive in with heavy loads.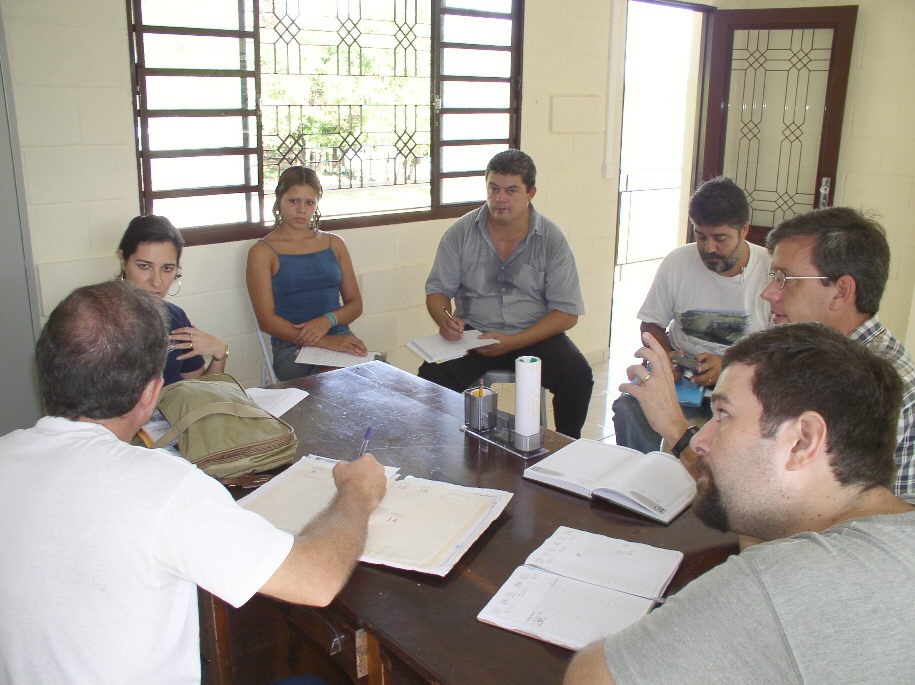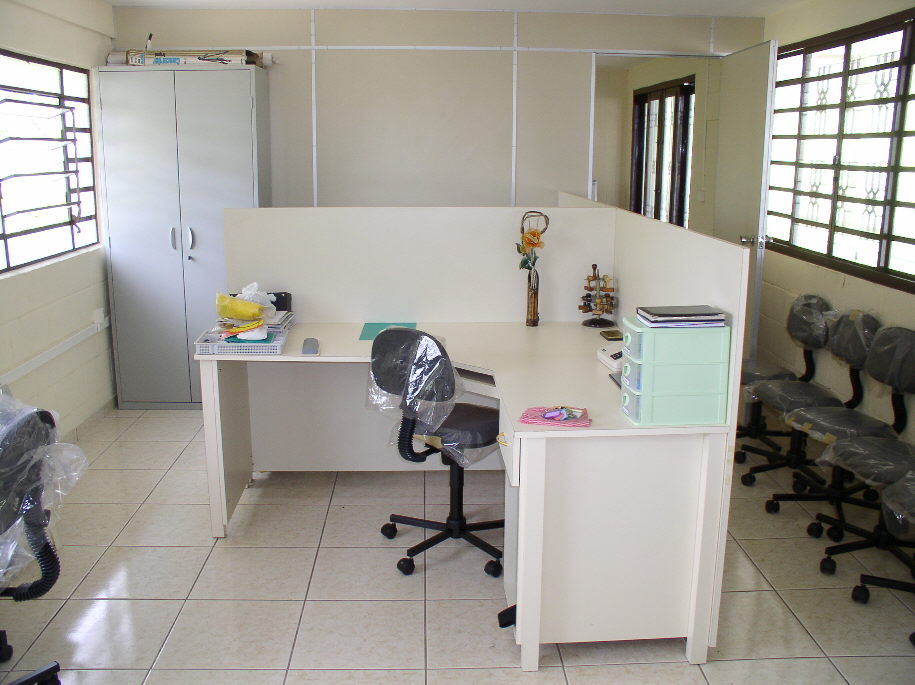 A conference progresses with, left to right, Manaus Sector Head Wilson Kannenberg, aviation engineer Rebeca Luque Abias from Anapolis, Monique and her father Jefferson our newest Manaus member, chief mechanic Milton de Souza from head office in Anapolis, pilot/mechanic Paul Bachmann, and mechanic specialist Ryan Joy.

Arquives from Previous Years: