Asas de Socorro, Manaus Sector, sends its first mission to the area of the city of

Belém!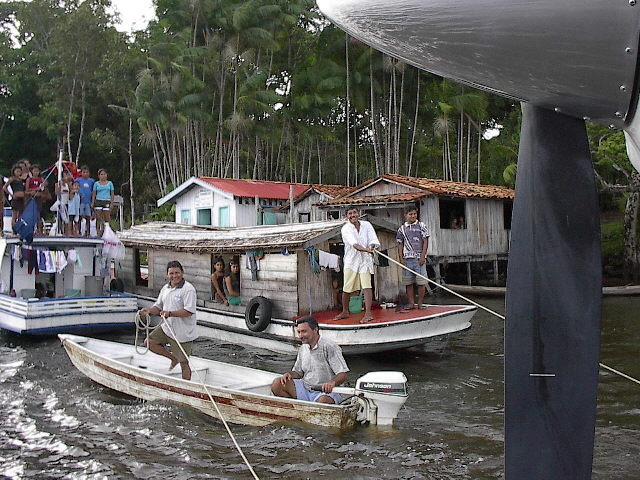 Joyous villagers grab ropes and haul in the plane with its life-saving team of doctors and dentists.  Evangelists from Unevangelized Field Missions came in by boat and worked with the Asas de Socorro team.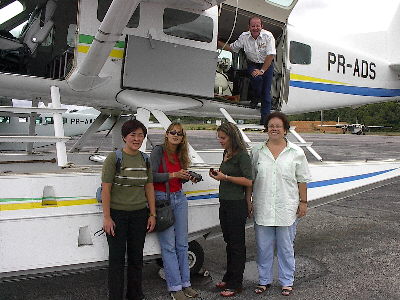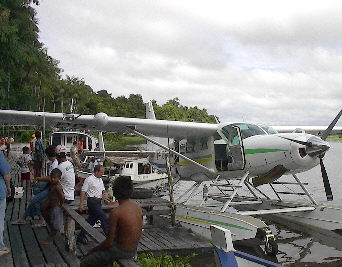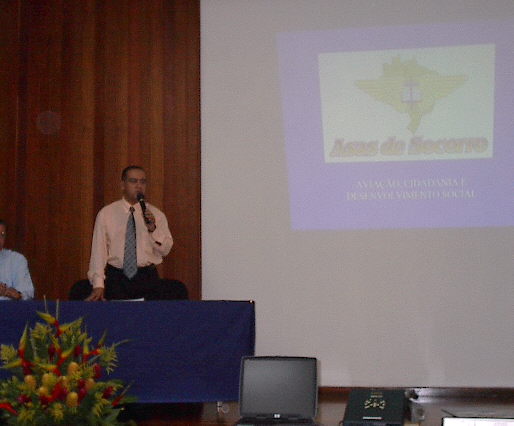 The first mission to Belém, which took place from Sunday, 16 February, 2003 until Saturday, 22 February, accomplished several purposes.  First, the clinical team was flown to a remote village in the area of Belém, which involved stopping overnight in Santarém.  Belém is far to the east of Manaus, on the Amazon Delta as it flows into the Atlantic Ocean. 

The clinical team consisted of (from left, on the tarmac) Dr. Carla, Dentist Aldelena who is now a permanent part of Asas Manaus, Dentist Monica, and Dr. Maria Celia.  Pilot Wilson Kannenberg, above, is preparing the load for flight.

While the clinic was being held, two things were occuring in Belém:

A "Roll-out" ceremony was held at the Air Force Base in Belém.  The Executive Secretary of Asas de Socorro flew up from the head office in Anápolis, Goiás to present our organization to the aviation, missions, government, military, and political communities.  It is very important that they know who we are, what we do, and what planes we fly.

A similar presentation had been made in the nation's capitol, Brasilia, and in Manaus when the Caravan arrived in country, and it was definitely a good move.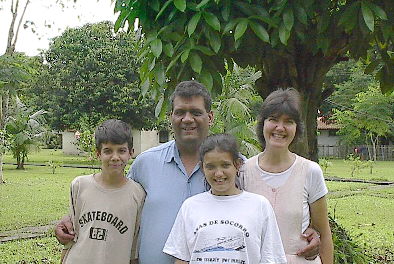 Ricardo Marquez was introduced as the newest pilot of Asas de Socorro.  He is already a resident of Belém and an accomplished pilot in many aircraft, including the Cessna Caravan.  Ricardo has been working with Puma Air and guiding in its creation and growth for the past twenty years.

Flying low over the Amazon nearly a year ago, he was moved deeply by the poor people there living in their houses on stilts by or in the river.  He felt the call of God to leave his secure position with Puma Air and volunteer as a missionary with Asas de Socorro, which he had just read about in a secular Brazilian aviation magazine.

He has begun the process of "deputation", that is, speaking to churches and individuals in the hopes of gathering regular financial support for his livlihood.

The team is inserted into the first of the villages to be given free medical and dental treatment.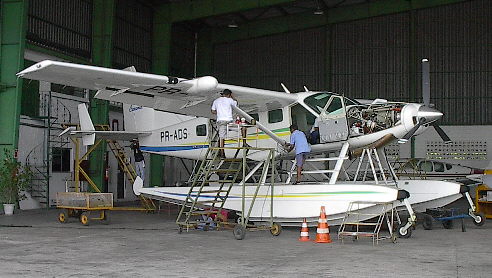 At the same time, the Caravan was receiving both its annual inspection and its 500 flight hour check-up, which legally are separate processes.

This was done at a greatly reduced price by Puma Air.  The pilots were extremely pleased with the care and degree of attention and professionalism given to the the plane.

We have good connections with Puma Air as a result of God's moving in the heart of one of its principal officers--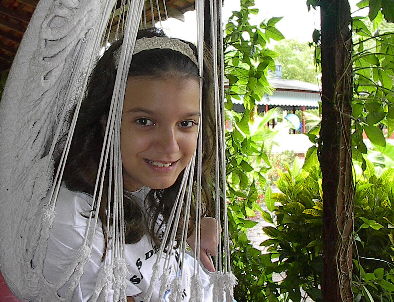 Ricardo and his wife, Margarita, are both fluent in English.  Their children, Mateus and Sara, are bravely excited about the massive changes that this decision will bring in their lives.

Darrel took this excellent shot of Sara in the hammock chair at their home.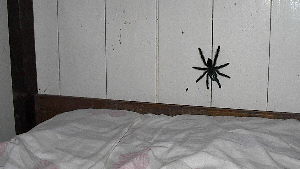 Darrel and Wilson were resting that evening in missionary quarters in Belém, when it became apparent that they were not alone.  A fairly large tarantula had joined them.  The tarantula (same name in Portuguese) is not poisonous to humans, although its bite can hurt a bit and become infected.  Not wishing to harm the giant spider which eats lots of insects, Darrel gently guided it into a sack and released it outside, some distance from their door.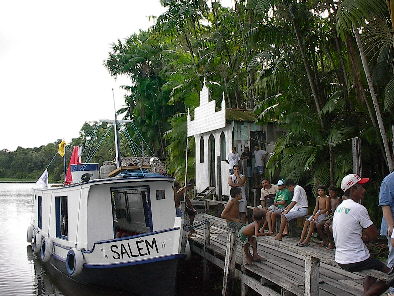 On Satuday, February 22, the pilots flew back to the river community and picked up the clinic team.  The doctor and dentists had traveled to other villages on this boat, the Salem, while the Caravan was away.

Extending the mission work to Belém will be an enormous task, since the area has been settled for centuries and the population is so much greater than the Amazon area west of our base, Manaus.

Asas de Socorro envisions growth of a new Belém sector starting with Ricardo Marques.  In the Lord's great provision, the first plane, a Cessna 206, has already been procurred from a Baptist group that has closed its aviation functions.  Its pilot has returned to the USA.  Asas de Socorro was saving toward an airplane for Belém, but did not have nearly the value of this plane, which is in superb condition.  But the plane had been donated for missions in the Amazon.  So we gave what we had, and they gave what they could no longer use!  Why should we be surprised when God supplies what we need to do his work for his people?

Arquives from Previous Years: