Sunday, July 8th, 2001, medical and dental treatment were given freely by five California Korean - American doctors and dentists and three Asian Brazilians to the Murus Indian tribe in the village of Murutinga.  Later, a Bible knowledge contest was held, amazing the missionaries with how much the village children know, especially considering that there is no resident pastor in this village.  Messages were preached in Portuguese by missionary pilot Wilson Kannenberg, and by missionary Dr. Seung.  Sixteen young people accepted Jesus.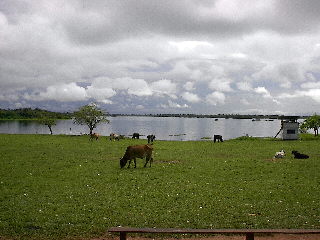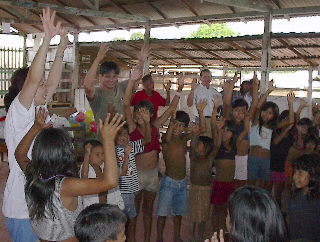 Children exuberantly sing with hand motions.  The adults are, L-R omitting villager in red:  Dr. Jung, Pastor/Dr. Seung, and missionary pilot Wilson Kannenberg.  (Missionary pilot Darrel Carver is flying the camera.)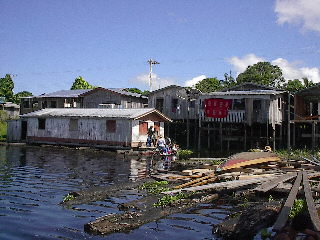 Beautiful coastal Murutinga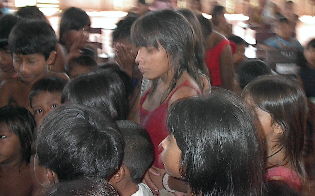 The children and many adults have skin diseases due to poor personal hygiene.  This little girl had suffered a terrible but not unusual accident:  she had fallen off a motor boat, her hair became entangled in the motor, and her scalp was ripped off.  She is healing, but will never be able to grow hair.

Dr. Seung's tenderness as he attends to this child is evidence of the love of God demonstrated by the medical care he gives her.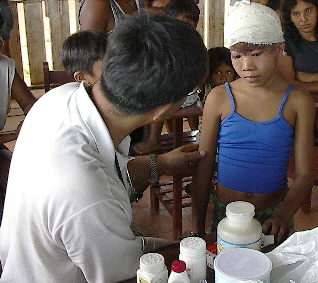 If you would like to participate in a mission like this, contact us by phone or e-mail.

Arquives from Previous Years: